Date: 2013-04-30
At events you can reuse the PopUp and RollUp systems you already have, with the same visual impact as for new systems. You only need the new prints and personalisations we produce:
- with the best quality!
- with an advantageous price!
- as quick as in 24 hours production time*!
* Production time is related to working days and is available within the dialy maximum production capacity!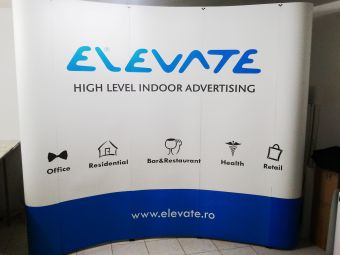 Remaking Print for PopUp 3x3 curved - 180 Euro/pcs+VAT
The print is made with:
- printed vynil at 2400 dpi
- matte lamination
- PVC 0,4mm
- magnetic stripes.
The print is watter proof. Print adjusting on your system is free!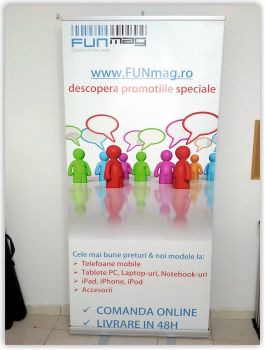 Print for RollUp Banner 85 - 15 Euro/pcs+VAT
Print is made on 200 microns polypropilene with gray back for an improved contrast,
using a HP Latex printer at 2400 dpi.
The print is watter proof. Print installation on your sistem is free!